New Bridge Multi Academy Trust
About Our Trust
I am pleased, on behalf of the staff, governors, pupils and students of our schools, to write these few words of welcome and an introduction to our Trust.
The New Bridge Multi-Academy Trust caters for young people with an EHCP from the age of 4 to 19.
We believe that all our young people deserve the very best provision.
New Bridge School converted to a MAT in 2014 to enable the sponsorship of a new build school for children on the autistic continuum, Hollinwood
Academy. Spring Brook School successfully applied to join our Trust and in 2019 we set up the Springboard Project to deliver a more appropriate vocational offer for young people with SEND. We then welcomed Hawthorns School and @EveryoneLearning to our Trust.
We are committed to providing the very best opportunities for our children and young people and our destination focused provision enables them to play a meaningful and fulfilling role within their local and wider community.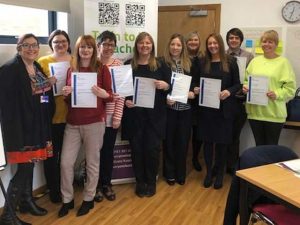 We have established some of the best employability pathways in the world, with over 11 years of experience in supporting our students into the world of work.
We are an Apple 1:1 Trust, the first in the UK, which means that every single one of our children and staff have their own iPad to enhance engagement, achievement and innovation.
Our curriculum and philosophies provide the opportunities for academic and social development that will enhance the life opportunities for our young people as they move into the adult world.
As part of our wider group, we also have two Post-19 organisations, New Bridge Horizons, a social care provision for adults aged 19+ and Future Finders Employability College, that offers a 1-year supported internship course for those students looking to move into paid employment and independent volunteering opportunities.
Our trust is continuously growing and we are committed to continue to provide a destination focused and innovative curriculum to allow our students to achieve a meaningful future.
Graham Quinn CEO